Proposed LaGrange apartments raise concern among residents
Dylan Reynolds
The Chronicle-Telegram
Jan 03, 2020 6:00 AM
The development would include 48 two-bedroom, one-story units, as well as a leasing office and four stormwater management basins, said Chris Howard, vice president of Bramhall Engineering & Surveying, the company handling design work. Developer Jason Scott said the apartments' name is still in the works, but he's looking at a Civil War theme.
LAGRANGE — Extra chairs had to be brought in to seat the crowd of LaGrange residents who attended Thursday's Planning Commission meeting to express their concerns about a proposed apartment development that would be built on U.S. Grant Street near North Center Street.
Thursday's meeting only included an informal presentation of its plans, so Planning Commission did not vote on approval of the plans. The next step in the process is for Village Engineer Doug Nusser to look at the developer's plan and determine its compliance with zoning codes.
But that is where the confusion begins for the village. The land the apartments would occupy is zoned as planned unit development (PUD), but village leaders and Planning Commission members were not certain on what uses of the land would be permitted by code.
Mayor Kim Strauss, who sits on the Planning Commission, said confusing and seemingly contradictory codes governing the PUD have the village looking to Village Solicitor Jon Clark for legal advice on how to proceed. Some residents questioned Strauss and the Planning Commission on whether the area is zoned for apartment development.
"It is very confusing at this point," Strauss said. "We still don't have an exact answer."
Nusser said the village needs to figure out what the approved use is for the land, so he can determine if it may need to be changed for the development plans to forward. Some residents in attendance thought LaGrange does not need any apartments at all.
When Scott, the developer, told the crowd that there is a high demand for apartments wherever they are built, some in the crowd replied, "Not here, they're not."
Others raised concerns that the additional residents the development would bring could produce dangerous traffic in town, create trash collection and snow plowing problems or put a strain on Keystone Schools.
Strauss said he has been in communication with Keystone Superintendent Dan White, and the district is prepared for any new students the development would bring. As far as the idea of building apartments as opposed to some other kind of development, Strauss said the alternative might be a Family Dollar or similar store.
"Something is going to go there, whether it is commercial or this residential," he said earlier Thursday. "I would rather see that developed into residential apartments than all of it go into commercial."
Because the village cannot reject developments that are permitted by zoning codes, an agreeable solution with the developer will be the best way to please the concerned community members, Strauss said.
"They want us to just say, 'No, don't do anything,' but we just can't do that," he said. "We have to work with the developer and that's what we're trying to do."
North Star Builders previously submitted another design, but the village asked for revisions with fewer curb cuts on the street. Strauss said he finds the new designs to be laid out nicely, and his hope is that the eventual final plans would be "palatable for everyone."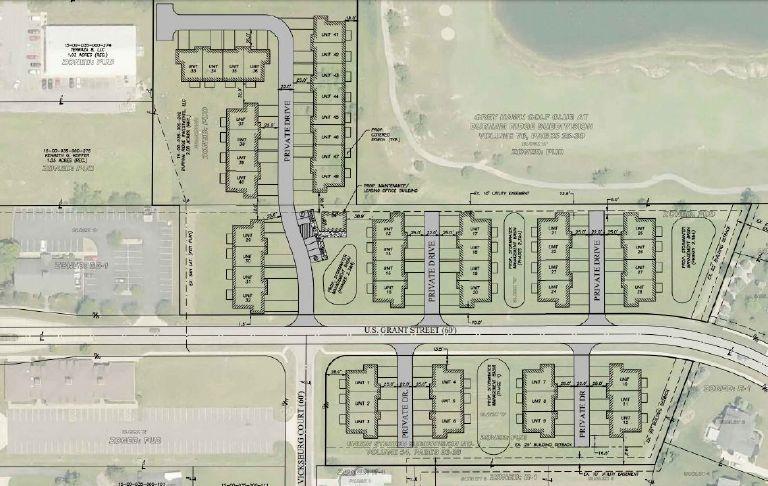 Contact Dylan Reynolds at (440) 329-7123 or dreynolds@chroniclet.com. Follow him on Twitter @DRey1357.